Well my friends I did it. I am no longer a sewing virgin. I got my little sewing lesson from my mom and got right down to business on my first Summer of Sewing Project.
Click Here
to see my Summer of Sewing project list.
And here it is...
I got my inspiration ... or shall I say Pinspiration from these toothbrush carriers made from washcloths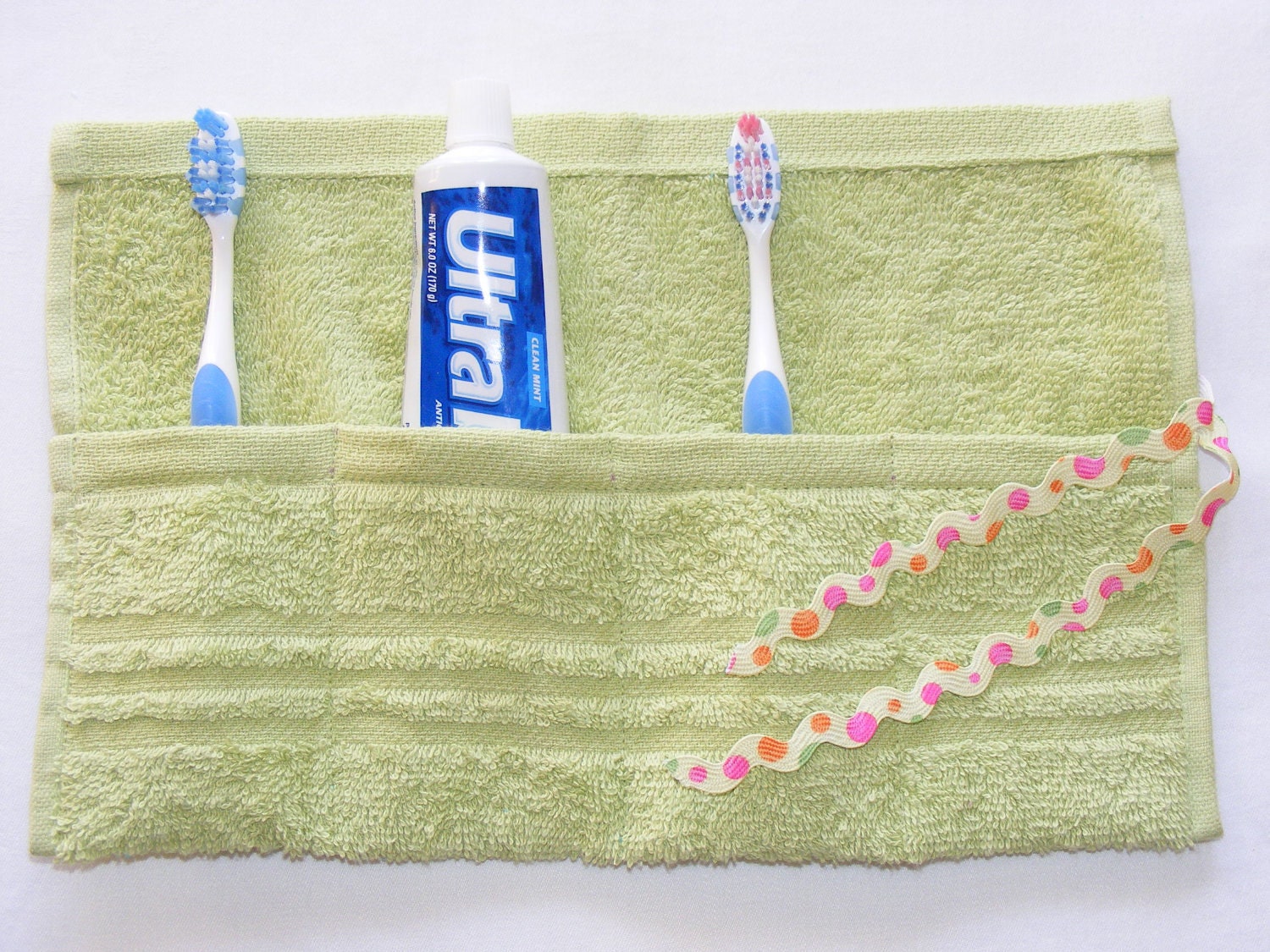 I took this idea a little further by using a hand towel instead of a washcloth. This gave me bigger pockets to fit all of my travel toiletries in.
It's kind of hard to see but I folded the towel up as shown below. Then I just stitched up the sides and on the fold marks in the middle to create the pockets.
I also decided to go with snaps instead of two pieces of ribbon tied together. Since mine was going to be bigger and have more stuff in it I wanted it to close at the top and bottom as well as in the middle. So I went with these handy dandy little sew on snaps I got from my mom. (she always has the best craft stuff)
LOL! Considering Woolworth stores closed 15 years ago in 1997 these are a tad old. But they work just the same.
They have a top and bottom piece that you hand sew onto your fabric..making sure to line them up correctly when doing so.
When the tote is done you want it to be folded to look like this...
To do this you have to place one side of the snap onto the right edge of the towel, as shown below...
And the other side of the snap on the back of the towel just to the right of you middle pocket stitch, seen here...
Unfortunately it seems I have a problem with straight lines because my snaps veered to the right. I sewed these on first though so all I had to do was make sure that the other part of the snap matched up.
The snaps need to be sewn just to the right of the pocket stitch so that it can be snapped up at a quarter of it's size. Here are some pictures to help explain..
You start out with the towel open all the way to fill it...
Then it's folded so that one end sits just in front of the other like so...
Now you can see how the snaps will line up.
Then when it is folded in half again you snap it together shut...
Then throw it in with your luggage to have a carry all for your bathroom supplies while traveling.
I will definitely be using this for our upcoming Cedar Point trip.
I also think this is going to be perfect for camping this season. :)
Thanks for visiting my first ever sewing project post. Again,
Click Here
to see my Summer of Sewing 2012 project list.
And have a great day...